As someone who values security in a world that often feels anything but secure, I find comfort in reading the psalms. The paslms ground me, in a sense. They remind me of what is true. They remind me that I'm not the only to have ever felt unstable and even then, the stability of my God remains. 
Here's Psalm 18:1-2 – 
"I love you, Lord, my strength. The Lord is my rock, my fortress and my deliverer; my God is my rock, in whom I take refuge, my shield and the horn of my salvation, my stronghold." (emphasis added)
God our rock: Sturdy & immovable. 
Honestly, I used to picture a 20 foot boulder when reading that analogy. And it isn't a terrible comparison… Like a boulder, He is strong and He is immovable.  
But after spending almost a month in Israel and standing among the rock fortifications of the Judean desert…I would argue that this picture is far from complete. Working at an archeological dig site accounted for most of my time in Israel (we dug at Gath—the city where Goliath was from!), but I also spent a few days touring the nation. 
One of our first stops was Masada. A Roman siege ramp climbs the front of this desert plateau and brings you to the top of the fortifications and palace of King Herod (the same Herod that tried to kill baby Jesus).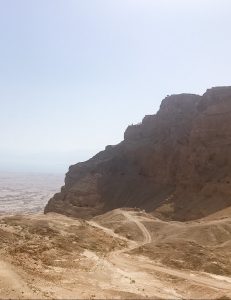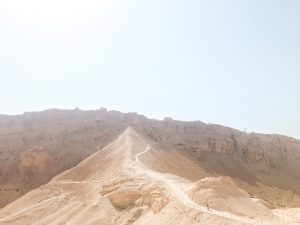 This large rock fortress named Masada stands along the southwest side of the Dead Sea with its towers reaching over 1400 feet higher in elevation than the sea at its side. This fortress also claims a summit area of 18 acres.
All I'm trying to say is that it's not small, k? 
If you'll allow me to geek out on history for a hot sec…there's a pretty significant event that took place at this fortress. (keep reading…this is actually cool…I promise.)
After the fall of Jerusalem and the destruction of the Jewish temple in 70 AD, Jewish rule was dwindling fast. In fact, Masada is the location of the "Jews' last stand against the Romans" (Encyclopaedia Brittanica). These 1000 Jews refused to surrender to the Romans…so the Romans besieged them, determined to take over by force.
…one year and 15,000 Roman soldiers later, the Romans finally succeeded. 
Now, why does this matter for you and me? 
Think back to Psalm 18 quoted above. 
David is the author of that Psalm. And get this: Masada is located in the Judean desert—the very desert where David worked as a shepherd for many of his growing up years. So when David pictured God as our rock, there's a good chance he wasn't thinking of a 20 foot boulder after all. He was thinking of a rock fortification like Masada. 
David wrote Psalm 18 after being delivered from the hands of his enemies. These enemies were literally after his life, but God delivered him from the situation without harm. David responded in worship, proclaiming God as his rock, his fortress, his deliverer. 
Here's what I think needs to be capitalized on: God did not keep David from hard times…but He did serve as the One "in whom [David took] refuge" (Psalm 18:2).
The truth is, we will experience extremely difficult times on this earth. We will feel crippling fear of the unknown, we'll lose loved ones, we'll have many unanswered prayers. 
God doesn't promise to hide us from these hard things. But he does promise refuge in the midst of them. 
It took 15,000 Roman soldiers an entire year to take over the 1000 person Jewish remnant of Masada. This rock fortress is no joke!  Of course, the analogy isn't perfect because the Romans did eventually defeat the Jews in this siege. But the good news that we can hold onto is this: God is not just a rock…He is a living God. 
He cares about each and every one of us. He cares about all that we fear and face. When we are in relationship with him, there is absolutely no safer place for us to be. 
At the top of Masada, those 1000 Jews were completely exposed. And yet they were safe. How much better knowing that a living God is our rock—a stronghold in times of trouble? 
Today, rest in that. 
"The Lord is a refuge for the oppressed, a stronghold in times of trouble. Those who know your name trust in you, for you, Lord, have never forsaken those who seek you." 
           – Psalm 9:9-10, a psalm of David. 
References:
Credit goes to my theology professor/tour guide, Dr. Seth Rodriquez, who read the psalms as my team and I stood at the base of Masada! He was the one to make the connection that "God my rock" is a beautiful, impressive, and big analogy that compares our Lord to impressive rock fortifications such as Masada.